The Jesus Diaries
In 1983 some bloke had the brilliant idea of making up a load of stuff about the war, sticking it into a diary and pretending it was written by Hitler. Bingo! Within 5 minutes newspaper editors, so-called academics and senile old historians are falling over themselves to say it's genuine. The geezer sells it to The Times and walks away with a zillion squid.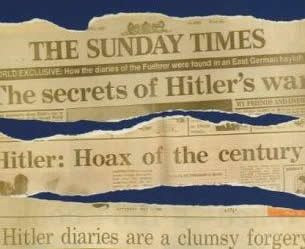 I know from personal experience that it's not that easy to sell stuff to the papers. None of the Sundays were even remotely interested in my Richard Stillgoe revelations and I couldn't even get the Ilford Recorder to publish THAT photo of me and Doris Hare falling out of a taxi outside the Chadwell Heath Harvester.
The Hitler Diaries idea was a good one in theory but sloppy research and piss poor prose led to the work being quickly revealed as being a fake. I mean , come on , Hitler never delayed invading Poland because he was having a Keegan- perm , nor was he banned from The Pink Coconut  in Worksop for wearing lederhosen.
Anyway ,shortly after the scandal broke I had a bit of time on my hands after finishing a three-month tour of a variety show called '' A Night Of A 1000 Stars '' with Tik and Tok , Sonia and Bogshed. It was going to be a six month tour but we were closed down under the Trades Description Act.
I reckoned that the fake diary idea was a pretty decent one - if you had the knowledge and guts to pull it off. It was simply a case of thinking of an appropriate subject to write about; someone universally famous and dead. Like Lady Di, Elvis or, my old boozing pal Tosh from The Bill.
…and then I had a brainwave…I would try the same trick , except this time it wouldn't be some sad old kraut but the most famous man in history himself  … Mr Jesus Christ.
I knew just the bloke to help me. The Reverend Sid Plaskett spent his days between the Wetherspoons on Romford High Street and William Hills. There was nothing he didn't know about the bible – or so he said.
In fact The Reverend's brain had been so addled by years of drinking Pissmeister that he hadn't a clue what he was talking about. For a start he claimed that Jesus had been baptised by Joan Baptiste and I'm pretty certain that the Last Supper didn't take place in the Forest Gate branch of Toby Carvery.
So instead I swiped a couple of leaflets from The Blessed St Cuthbert's on one of their regular Bukkake coffee mornings and I did the best I could.
Yes, there might have been one or two historical inaccuracies but I have never claimed to be a religious scholar (well, I did once in the Top Hat Club in Ilford and it got Sister Wendy's drawers off in a nano-second).
Maybe I was wrong to suggest that Jesus got his sandals from the Galilee branch of Shoe Express. And – yes – I stole the whole of the Sermon on the Mount stuff from Delia Smith's rant at Norwich supporters ( ' Where are you ? Where are you? Let's be 'avin it! Come on you Peacemakers '). I just didn't think anyone would notice.
Then, my list of the 10 Commandments attracted a bit of attention. I couldn't remember all of them so I made a couple up. But I stand by 'thy should not lend Tosh from The Bill any money as thou will not see it back' as I have been stung more often by this than by coveting my neighbour's goat. And, I still think that any self-respecting God would say something about the size of the portions in that Harvester at the Redbridge roundabout.
Despite these small errors it wasn't long before the newspapers were queuing up to start publishing my masterwork. Top boffins from Oxford and Cambridge beat a path to my door offering wads of cash for 'the most important historical discovery in history '(AJP Taylor).
I signed a multi-million pound deal with a leading publisher and waited for the cash to roll in.
But in typical Mince fashion, there was a problem.
As well as writing the fake Jesus stuff I had been keeping my own diary about what was happening in my own life. Somewhere along the line the two had got mixed up and some of my personal diary entries had cropped up in the Jesus diary.
Most people didn't spot the error but after publication a small number of theologians and general God-bothers began picking at small discrepancies in the book.
For example, this entry from my own diary had accidentally made it into the book. This was meant to be the entry for Jesus' resurrection.
'' Boring day. Warmed up a can of Big Soup whilst I cracked one off to Lulu doing her new single on Pebble Mill at One., whist waiting for the interview witth Ted Chippington "
Or this for the Transfiguration:
'' Took Fat Val to see Confessions of a Window Cleaner '' at The Gaumont in Romford She'd polished off half a stone of popcorn and a box of Liquorice Allsorts before the Pearl and Deans had even finished. Then, half way through the trailers the Cinema Manager bursts onto the stage and asked '' is there a plumber in the house? ''Val had only gone and blocked the ladies khazi and the cinema staff were evacuating a screening of the Great Muppet Caper because of the smell. ''  
And, bloody hell, this somehow managed to replace my carefully researched version of the Crucifixion:
'' Bloody Police turned up just as I was about to have a Barclays.  They asked if I knew anything about some obscene letters that had been written to Su Pollard from Hi Di Hi. I said that they weren't 'obscene'. I was merely asking after the well-being of her cat. ''
So in the end it went the same way as the Hitler Diaries: public humiliation, exposure as a fraud and a reputation in tatters. Back to the dole queue , empty pockets and Su Pollard didn't even have the courtesy to reply.